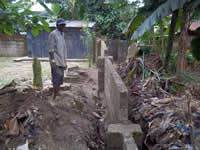 Security Fence Project
Dearly Beloved Friends and Partners,
Warm greetings again from your brother and servant of the Lord.
Sending you a quick update about our fencing project which started following the cessation of the rainy season. Sand, Gravels, and labor charges are very expensive with high inflation.
The photos above show you were we are at for now and alot needs to be done that includes,
raising the walls up again to an appreciale level, having a security post and an iron gate with lightings round the fence.
We are breathing a sigh of relief with the funds we haves so far received and need your help to see us complete the project which is estimated to cost $10,000. We have invested all the the funds we got which was $2,050.00 for the security fencing project.
We pray you would consider supporting us to complete the fence to help curb kidnappers and suicide bombers having an easy way to kill these precious angels that are benefiting from your kind generosity in learning how to read and write. Thanks for being a blessing!!
Let me hear from you if you would love to give some cents and pennies for this project.
You can send funds to us through paypal or through my Tulsa, Oklahoma account aswell in the USA.
Be blessed.
Dr. McDonald Imaikop (Bishop TRM)